As the game of soccer has become more popular and is celebrated by both sexes. Everyone who is a hard-core soccer fan wants to have a soccer jersey of their favourite team or player. However, if you are a player, you know that the jersey with logo's and promoters can't be worn at every practice session.
Therefore during a practice session, you could wear any soccer jersey which you want. Usually, a soccer jersey comes as a kit, which consists of a t-shirt, shorts, socks, and ergonomic pads.
A wrong soccer jersey could affect the performance of the player during sessions. What happens usually is players end up buying cheap soccer jerseys that are of low-quality material, which eventually in 2 or 3 matches will get ripped,  stitching gets loose, or even shrink after washing. If you are a dedicated player of soccer, you do not want to waste your money and time on a soccer jersey that is not worth it.  Below are some tips and pieces of advice to buy the right soccer jersey.
Material
The best material of jerseys made from lightweight and fine quality polyester material. A good quality jersey will have a side mesh for the passage of airflow. Soccer jerseys are usually seamless; therefore, while playing, you do not experience any kind of discomfort of scratching or itching due to seams.
Jerseys made from high-quality polyester helps in not letting your jerseys getting more massive due to sweat which could affect your performance. Buying a superior quality of Jersey is actually like an investment; you don't need to replace or exchange them frequently.
Fit
This aspect of your soccer jersey is exceptionally crucial while getting a new jersey. If you are wearing tight shorts, your movements get restricted. A player could buy the most advanced fabric jerseys, but if it did not correctly fit on your body, it would be good for nothing.
Another aspect to keep in mind is that soccer jerseys are usually made slim fit, which helps in accessing free movement. Soccer jerseys are designed to be in proper body fitting, but it should neither be too tight to restrict your movement or not loose that fabric gets in your way.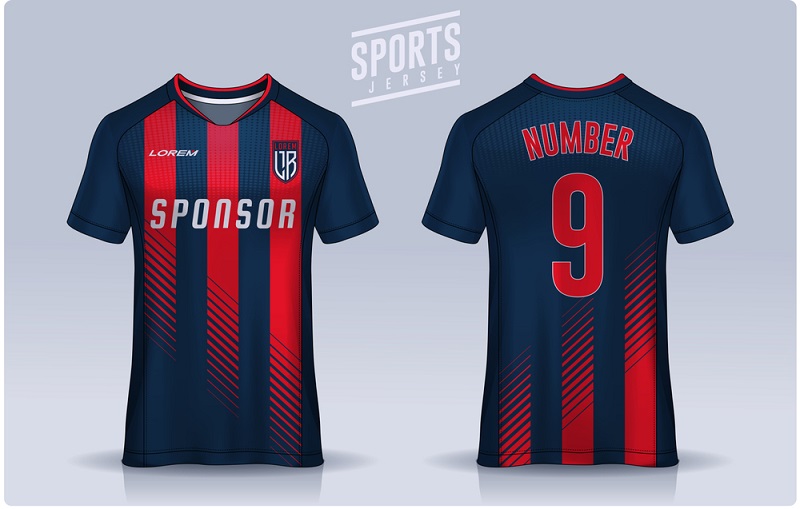 Protective Gears and features
For a professional player or an aspirant who wants to be in soccer teams, safety on the field should be your primary concern. No doubt soccer is a sport where you can get injured easily but anything significant like a knee problem, fracture, or ligament capture could keep you off the field for weeks and months.
To provide safety to players, these days soccer jerseys come with ergonomic pads. These pads assist you to absorb the impact and even prevent players from cuts, scrapes, discolouration, and grazes. These pads are strategically positioned so that they do not cause any kind of restrain while playing.
Choosing your jersey as per player position for both men and women
Nowadays, women soccer is getting renowned and prominent; therefore, jerseys are designed for every job in the field your need to have a different kind of Jersey, but most important is a jersey for goalie whether it is a women or men goalie. Usually, a goalie needs to have a little loose jersey made with the superior quality of seamless nylon of polyester material. A goalie has to jump around both corners/goal, do long kick-offs. Moreover, a goalie needs more pads in his/her jersey to brace the impacts.
It is both crucial and wise to choose and invest in the right soccer jersey. A better jersey could be your companion on the field, which improves your performance.