Writing articles for SEO benefits isn't just a case of writing down as many words as you think people search for, into one article and publishing it. In fact, that sort of behaviour can mean that Google and others may penalise your blog or website.
You can't just write it isolation either; you need to be aware of off page SEO tactics, such as building backlinks as well. SEO has two main elements; that is on page SEO, which are the things you can control, on your website or blog, and off-page SEO, which is things such as backlinks and citations, etc which aren't always in your control.
Yes, it's true that with enough effort and talent, you can build a lot of backlinks, however you still need to have great on-page SEO as well, which mostly comes down to keyword rich content.
So for the sake of an example into article SEO, let's say you own a cafe supplies business, and you have many coffee machines to sell, and you are happy to ship them anywhere in Australia.
So let's say that you decide that you want to rank highly (ideally in first position) for the phrase of "best coffee machines in Australia".
So we start by doing some searching on Google, and we find that Google is also suggesting people search for very similar phrases, such as;
best coffee pod machine australia 2019
best automatic coffee machine
good guys coffee machine
best manual coffee machine
best manual coffee machine 2019
breville coffee machine
sunbeam coffee machine
harvey norman coffee machine
So, because we aren't one of the retailers mentioned above, we won't put their names in our article, however we will mention the brands we carry, which include Breville and Sunbeam.
So, after thoughts, we keep our primary keyword becomes "best coffee machine in Australia", however now we add secondary keywords for which we'll also add in the article, which will be best automatic coffee machine and best manual coffee machine.
So we have now achieved the first step in writing our SEO friendly article, which is choosing the main and secondary keywords that we want our article to rank for. We may want to add the year to our title, since we can see above that people were searching 2019, which is last year.
So we can plan our article out, like this;
Best Coffee Machines in Australia (June 2020 Edition)

Introduction
Best Automatic coffee machines
Best Pod coffee machines
Best Manual coffee machines

Summary
So now we can jump into WordPress, and start the blog post with the above title and sub headings.
WordPress basics
Let's jump into our WordPress dashboard, and add the rough outline of our article. We'll add the title, and then put the subtitles in, so we have an outline.
Then we will take a look at the Yoast SEO plugin at the bottom, and tweak the text so we can see how it would look in search results (below).
Now you can see the title here is the title which will be shown in Google search results. Below this, Yoast has a measure to get the right title length. You want to make sure it is green here. If it goes red that means the length of the title is longer than ideal.
URL and slug
The second step whilst we are here, is to ensure our main target keyword, "best coffee machines in Australia" is in the URL as well. So you have your domain name, and then the article URL is called a 'slug', so www.mycafesuppliesshop.com is the domain, for example, and then /best-coffee-machines-in-australia/ is the slug. So the URL must contain only the main keyword, and nothing else.
This is the SEO tactic that I use where I keep the URL with only the primary keyword.

By adding the words June 2020 in the title, we increase the rate of people clicking on our article in search results. However, because people want only the most recent information and reviews, we will need to change the title regularly, so it doesn't date.
This will help in getting us better ranking. Our title is very nice it follows what is already working in the Google search results. We have also added month and the year so that our click-through rate increases, and that's one of the many benefits of using the very popular Yoast SEO plugin.
Research steps
Now let's go take a look at a few of our competitors. What kind of articles are they writing, and what makes them deserve first page rankings? So whatever your target keyword is, go to Google and search for it and look at the articles in the first five organic positions.
This is the research process. What we are doing at this stage, is reviewing these articles and looking for content gaps or issues with them, so we can write a better article than the ones out there. So starting with the first article, go through and write a few dot points on issues you notice.
I see the first article  has very long paragraphs, and we nobody wants to read a huge paragraph. People prefer paragraphs that are only 3-5 lines long. So one thing we can do is we can add proper spacing.
Okay so here is a succinct table of contents, so that's great for navigation purposes. Also, I notice that this articles has no pros and cons list, so that is definitely something we could have, and improve on this article.
So looking at the next handful of high ranking articles I see a few other things. For example, I see there are no videos here. So if you can find some YouTube videos that are reviewing the coffee machines, then that will really help in increasing our information we can show, and hopefully increase the on-page time of people reading this article. This will help us get better rankings.
So one thing that you'll see is that the majority of these first five articles are really long, like 4,000+ words. This means that we will need to write a very long article to compete, because people who are looking for best coffee machines may be looking for very comprehensive information.
Also, just like our competition, we will need to explain all the things related to coffee machines. Like bean grind, water storage, cups…all those things. So we are basically writing up an extensive buyer's guide for coffee machines.
So after all this research, you have two options. Either you write the article yourself, or if you don't have time or the ability, then you can outsource it. If you are writing the article yourself, be aware it will take considerable time to do. We can see the majority of our competitors have written at least 4.000-5,000 words per article. This is easily at least a 4,000-word article that you'll have to write. At least 4,000, or even better, 5,000 words.
Think of it this way. Your competition is going to continue to grow day-by-day, so if you really want to rank well, then you will need to write an article which is very comprehensive, and contains everything a coffee machine buyer in Australia will want to know. This helps explain the intent of the person reading your article too.
If their intent is getting fulfilled, that is they are learning everything about coffee machines, then she will be happy that she is spending more time on your website and won't be leaving it. This helps give Google okay this article is perfect. This article is giving all the information that a person is looking for. So this article must be good so it will give you a better ranking on the Google search result.
So as I have mentioned, there should be proper sub headings throughout your article, to allow people to easily scan it, and find any section they wish to read. We have those already in WordPress, so we need to continue to flesh out the article using those as a guide.
Always ensure that you use proper heading structures throughout your articles. Just like this article, we always use proper H1, H2 and H3 headings and H4 headings if needed. We also have lists with proper bullet points, and we take the time to ensure each paragraph is reasonably succinct.
So always have a subheading in H2 heading, and then for sub, sub headings use an H3 heading. Then H4 heading, etc etc. Using this proper heading structure really helps to get higher search engine rankings.
Article SEO and images
Another great method to encourage scanning and deeper reading is to use plenty of images. I would use images of coffee beans and coffee in a cup from a stock library such as Pexels, as well as images of the machines you will discuss, probably straight from the manufacturers websites.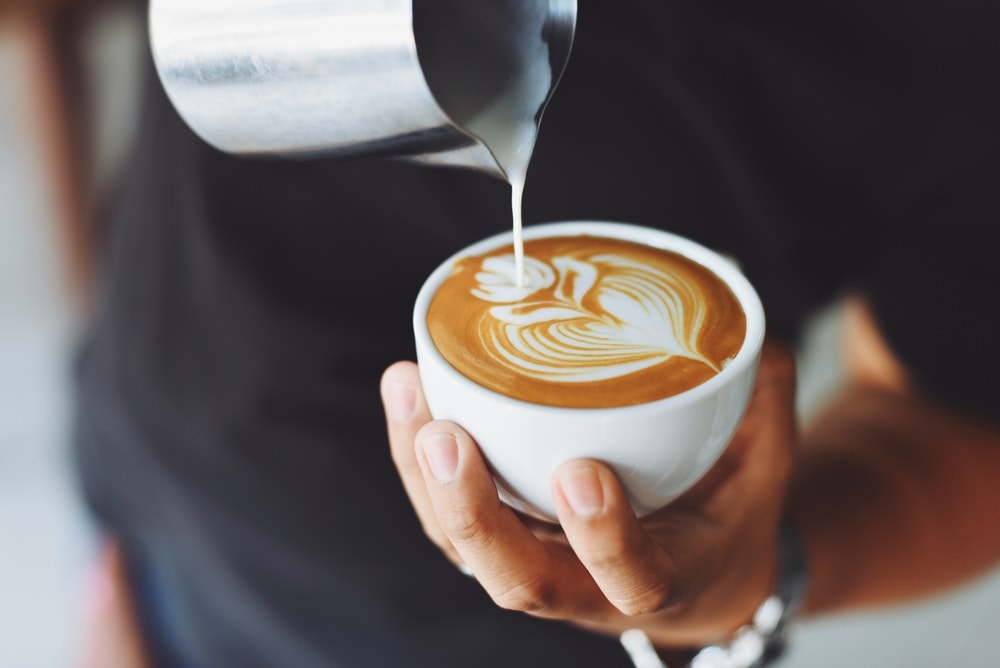 You should have plenty of images for a 4,000 word article, and in this case, given the amount of images, you want to make sure you compress them all for file size.
So for that, I use Optimizilla. I simply upload the images, and then Optimizilla compresses them, and then I download the smaller versions.
I find most of the images I use end up compressed by 10-40% in file size, which is awesome. If you compress all the images you use on your website, there will be less load on your server, therefore your website will load faster. So make sure you compress all the images that you are uploading.
So the faster your website loads, the better ranking you will naturally get, because Google always wants a fast website. You can check your website speed at this very handy tool by Pingdom.
Check your current WordPress theme for speed as well, this can often be the issue if your blog or website is running slow.
Another point when it comes to adding images to blog posts, is always make sure that you add "Alt Text" to each image. So if you upload an image of a Sunbeam coffee machine, then make sure you add the alt text with "Sunbeam coffee machine" as well.
Ideally, add similar text to the caption as well, and ensure that a few of these images have your target keyword or phrase in the alt text. This will also help in getting ranking in the Google image search too, which isn't a bad thing at all.
Writing
So back to our example of "best coffee machines in Australia". One thing that you have to remember, is that the main keyword should be in the intro, within the first 100 words of your article. So find a way to use them, such as "Let's talk about the best coffee machines in Australia…". This will really help you with your article SEO.
Whenever you are doing articles SEO, ensure that you have zero grammatical mistakes. Whenever someone is searching for information, if they stumble across an article which has grammar issues, they will end up not trusting the website. What will end up happening is these visitors will hit the back button, and leave your website for your competitors.
The best way to check for grammar is to use Hemingway. You can buy a desktop app, or use the free in browser version. All you have to do, is once your article has been written, just cut and paste into Hemingway and the app will give you all the recommendations about your writing.
Links
The very last section of this article, and my final tip is internal linking. Always make sure that when you publish an article, that you link to another page or article within the same website.
So in the above example, I would look for an article that I already have published that is related in some way to coffee machines. It could be about coffee, or cafe business, or kitchens; you get the idea.
Then find a few words within this article that you can use to link to this post, and add an internal link to the article that you're targeting. This will help in getting a better ranking, because internal linking also passes on good SEO signals and link juice.
Article SEO in summary
So, following all of the above tips should get your article SEO ten fold over what you may have done prior. Whenever people are searching for the best coffee machine in Australia, then your article will naturally appear in the top ten, and over time, as you build links pointing to it, you will do even better.
Just remember to continue to update it over time, and make sure to change the article title to the newer month and year each time. Good luck!
Once all of your articles have been written and each one published, then all you have to do is then promote the article to both existing audience and new audiences. That's a topic for another article entirely.
---
About the Author
Lauren Clarke is a prolific guest article writer, who has written for dozens of media and websites on a wide range of topics. You can read more of her writing on her Refind account.